---
The weekend rounded-up – 27th June
An array of four wicket hauls, another women's hundred and a tied game were just some of the highlights of another busy weekend of Dulwich cricket.
A late 1st XI batting collapse consigned them to defeat as they hosted Purley at Burbage Road. The visitors made first use of the pitch and were bowled out for 239 in 55 overs. Frankie Brown continued a good run of form with 4-66 and Naeem Iqbal (4-42) was also one of those to pick up four poles on Saturday. At 118-2 Dulwich were reasonably well set, but a run of late wickets saw them dismissed for 182 and fall short by 57 runs.
The 2nd XI were involved in a close result in the reverse fixture at Purley. Patrick George registered 4-40 to help keep the hosts to 197-9 as they batted their full 55 overs. Opener Raj Tulsiani made a postive 58 to set up the chase but a patchy batting performance saw Dan Peters' men finish nine runs short of victory with just one wicket left. Dulwich took seven points for the winning draw and stay third in the Division 2 table.
Also contributing four wickets this weekend was Chris Hope (4-93) but the 3rd XI fell well short of Malden Wanderers' 278 to lose by 115 runs - Shamim Ahmed contributing 59 of Dulwich's 163 all out.
Better news came from the DSG where the 4th XI reclaimed top spot in the Premier Division after beating SinjunGrammarians with an impressive bowling effort. Defending just 121, Dan Edwards (4-58) helped bowl his side to victory by 14 runs. There were a similar set of scores in the 5th XI's fixture at Chislehurst & West Kent – but Tim Brown's men came out just the wrong side of the result. A spirited performance saw them beaten by just one wicket in defence of 127. And completing a full set of possible results defending low scores, the 6th XI tied their fixture with Streatham & Marlborough. Malcolm Pursaud scored an unbeaten 50 to guide Dulwich to 119-7 in their 40 overs before Luke Howard (5-26) helped secure the amazing result as the last wicket went down with the scores equal.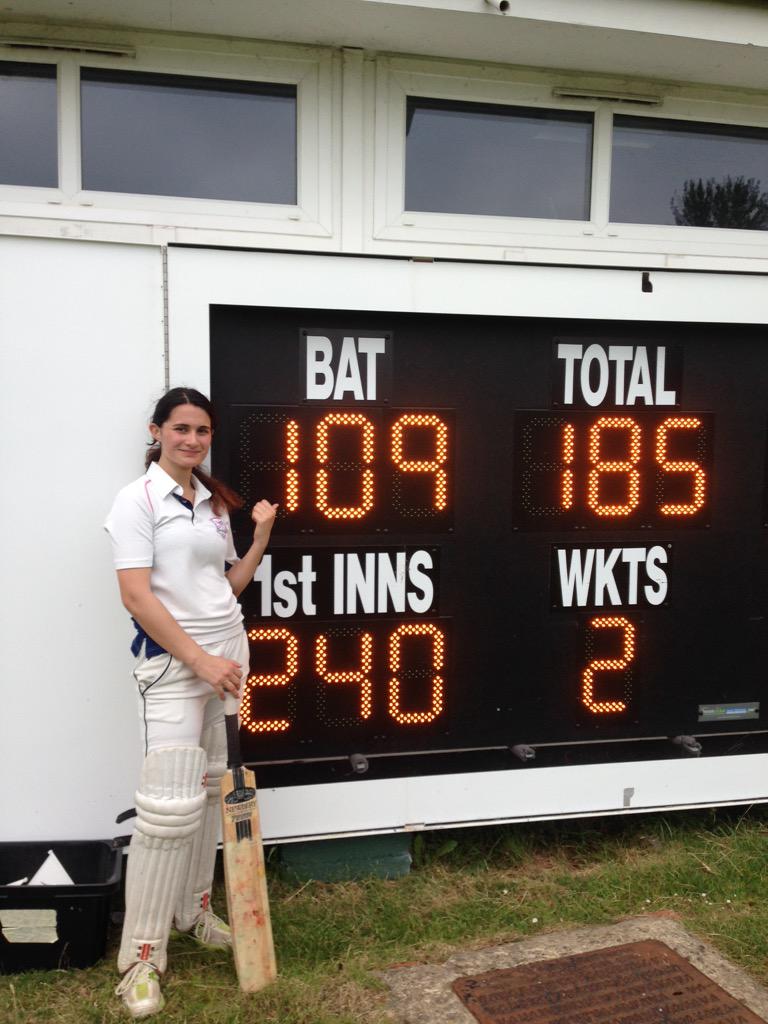 Dulwich's Academy season began on Sunday with a crushing defeat of Ashtead. Ashtead were dismissed for just 72 with pacey youngster Ian Topin taking 4-17 – Dulwich winning by seven wickets in quick time.
Another youngster performing well was batting starlet Kira Chatli for the Women's team. Chatli became the first woman to score a hundred for Dulwich earlier this season and has taken little time to repeat her feat. She batted through the team's innings at at Chippingdale, making 109 not out, out of her team's 185-2 in 40 overs – helping make a strong go of chasing the home team's imposing target of 241.
The Development XI were also in action – Julian Dean following up his recent 4th XI hundred with 84 out of Dulwich's 194-8 declared. The game was draw after Cheam finished on 177-7.
A full round up of results can be found here and statistics at Play-Cricket here.
---
Holiday cricket
Once again we will be running weekday holiday cricket sessions for boys and girls aged 7-11 during the summer holidays, from 6 July to 21 August. The sessions are suitable for both beginners and more experienced players, and non-members are welcome. This year we will also be running Saturday morning holiday sessions for children who will have just completed Year 1 and Year 2 (our under 6 and under 7 age groups).
Click here for full details and instructions on how to book.
Please note that we expect these sessions to be oversubscribed so book in advance to avoid disappointment. Due to minimum coaching ratios we may need to turn children away on the day if they have not been booked in advance.
---
Virginia Edwards
It is with great regret we report the death of Virginia Edwards on Thursday 25th June after a long illness. Virginia was a unique stalwart of the Surrey Championship and a great friend to this club and many others.
Virginia performed many roles on the Surrey Championship executive over many years. She worked on league registrations, league game results, the playing conditions, disciplinary matters and anything else that needed to be done. All of her work involved dedication to our game, commitment to getting cricket played across all levels and always over many hours at weekends and in evenings. Virginia possessed a drive to get things done but she also showed a twinkle in her eye, a charming sense of humour and great generosity of spirit. We will truly miss her and her contribution.
Sadly Virginia's husband David died in January 2012. David was a long serving Secretary to the Surrey Championship, an organiser extraordinaire as well as former player and long-time umpire.
A minute's silence was held at all the main grounds in Surrey last Saturday.
---
Dulwich CC announce haart as new sponsor
Dulwich Cricket Club are very proud to announce local estate agent haart as the new club sponsor. The agreement is a joint partnership with the haart branches based in Dulwich, Crystal Palace and Camberwell and will enable the club to significantly improve facilities over the next couple of seasons.
Club president John Smith formally signed the deal yesterday: "We want to thank haart very much for their support of Dulwich Cricket Club. This is an exciting deal that will help us to continue working towards many of the playing and developmental goals that the club has."
Divisional Lettings Director at haart Sharief Ibrahim, said: "The cricket club is well established in the local area and has both adult and youth teams. The catchment area mirrors that of the three haart branches, who are providing a significant investment, so it seemed like the perfect match. The teams at Dulwich, Crystal Palace and Camberwell haart are very pleased to be sponsoring Dulwich Cricket Club and hope that our contribution and partnership will help with the maintenance of the club. We are always keen to support local organisations such as this, as we feel they are vital to the great sense of community that exists in the area."
haart have expressed a keen interest developing a long term and active relationship with Dulwich Cricket Club reflecting our strong position within the local South London community.
haart is the UK's largest independent estate agent. Every year, haart helps tens of thousands of people buy, sell, let or rent their home through its network of over 100 branches. Find out more about the services they can offer you at www.haart.co.uk.
---
Subs now due
Subscriptions for playing and social members are now due.
PLAYERS' ANNUAL SUBSCRIPTIONS (to be paid by 1st May 2015)
Adult men – £175
Ladies - £60
Students over 18 at 1st May and in full-time education – £70
Students over 16 and under 18 at 1st May – £50
Adults who are playing members of another section – £100
Unemployed adults – £60
Social members – £25
MATCH MONIES (to include costs of teas)
Adults – £15
A concessionary rate of £10 is available for students and unemployed adults.
All players who have not paid subscriptions by 1st May will pay a match fee of £20 until the sub is paid
Please use the online payment system to complete your subscription.
---
Nets
Men's senior outdoor practice takes place at Dulwich Sports Ground every Tuesday night from 6.30pm.
---

---
Midweek work opportunities
As in previous seasons, Dulwich CC will be hosting hire games at Burbage Road and the Dulwich Sports Ground. There is the opportunity to earn around £25 opening up and offering to umpire or score for teams using our facilities. There is often food and drink included. Most games start at 6pm. Anyone interested should contact Matt Craig via matthewacraig@aol.com
---
Discounted kit
A reminder that Beckenham Cricket Specialists (owned by club member Peter Rice) offer 20% discount off the retail price across the entire cricket range, to all club members & families.
New 2015 cricket ranges now in stock – at prices that compete with all the major online cricket specialists.
Beckenham Cricket Specialist
181A High Street
Beckenham Kent
BR3 1AH